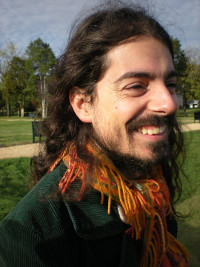 Nelson Nazzicari (PhD)
Scientist, bioinformatician
Centre for Animal Production and Aquaculture,Council for Agricultural Research and Economics (CREA)
Address: viale Piacenza 29, 26900 Lodi, Italy
E-mail: nelson.nazzicari [at] crea.gov.it
Find me online
My most up-to-date profile and production is on The Bioinformateachers. You can also find me on ResearchGate and on Google Scholar.
Research topics
Statistics and machine learning for inference and prediction
Genomics & co: population structure, genomic selection, association and diversity studies, metagenomics
Next Generation Sequencing: variant calling and related topics
Dissemination
Research positions
[since Nov 2019] Scientist (then tenured scientist) at CREA

started working at CREA in September 2014 as a post doc

[Jan 2013 – Aug 2015] Hired scientist/statistician at PTP – Parco Tecnologico Padano, Lodi, Italy
[Oct 2011 – Jan 2013] Post doc and contracted professor at University of Pavia, Italy, Faculty of Engineering

Teacher for the course: "Fondamenti di informatica B, (Modulo di Fondamenti di Informatica) ING-INF/05", focused on C programming

[Aug 2009 – Sept 2011] Research scholar at George Mason University, Center for Secure Information Systems, Fairfax, Virginia, USA
Alumni
Very smart people which I had the honor of tutoring sometimes in the past:
Education
[2005-2008] Doctor of Philosophy in Informatics and Electrics Engineering
[2003-2005] Master of Science (Informatics Engineering), cum Laude
[2000-2003] Bachelor of Science (Informatics Engineering), cum Laude
Publications
I've authored 35+ papers on peer reviewed journals, plus contributions to books, conferences and more. The most updated list is available on google scholar.